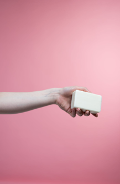 By now most of us are aware of the toll that the beauty industry takes on the environment. One of the smallest things we can do to save our environment is switching to organic products that are free from harmful packaging. Cutting back on packaged liquid shampoos and using a shampoo bar is a great environment-friendly initiative we can take.
However, the benefits of using a shampoo bar in place of liquid shampoo are not only limited to the environment only. Here are the benefits of replacing your regular liquid shampoo with shampoo bars.
1. Organic Shampoo Bars Are Natural
Shampoo bars only contain the ingredients that are ideal for your hair. They are free from harmful chemicals and preservatives that are often used to increase the shelf life of commercial liquid shampoos. Almost all of the liquid shampoos contain parabens. These are not only harmful to the environment but also the people using these shampoos.
Shampoo bars don't strip your hair of its natural oil and lipid coating. Your hair will not become brittle, hard, and dry. With natural oils infused in organic shampoo bars, your hair will be as lustrous as ever.
2. Organic Shampoo Bars Are Highly Concentrated
Shampoo bars are more concentrated than liquid shampoos. This means that a lesser amount of these is used per application as compared to our traditional liquid shampoos. Therefore, these bars also last longer than your regular shampoo. Just make sure you don't let these organic shampoo bars sitting in water for too long.
3. Organic Shampoo Bars Are Great for Travel
Tired of cleaning up the mess caused by the spillage of liquid shampoos every time you travel? We've all been there. Shampoo bars are a great alternative to liquid shampoos, especially when you are traveling. These bars are lightweight and small-sized. You don't need to worry about shampoo spilling in your suitcase and ruining all other things as well. Thus, if you are a traveler, then you should make the switch to organic shampoo bars rather than taking your traditional liquid shampoo on your journeys.
4. Organic Shampoo Bars Save a Lot of Space
If you are trying to transition to a clutter-free life, then shampoo bars should be a part of your new lifestyle. These are small in size and last for a longer time as compared to liquid shampoos. Your bathroom cupboards will be clutter-free as you won't have to fit in those big plastic bottles.
5. Organic Shampoo Bars Don't Harm the Environment
Last but not least, organic shampoo bars offer a very low carbon footprint as compared to liquid shampoos packed in plastic bottles. Using these bars will allow you to reduce your carbon footprint and thus reduce the harm such products are causing to the environment. If you are concerned about the environment, then do your part and switch to organic shampoo bars.
These were some reasons why using organic shampoo bars is a better choice than using traditional liquid shampoo. Try our Organic Shampoo Conditioning Bar and get all these benefits.
SUBSCRIBE TO THE BLOG
Receive an update straight to your inbox every time I publish a new article. Your email address will never be shared