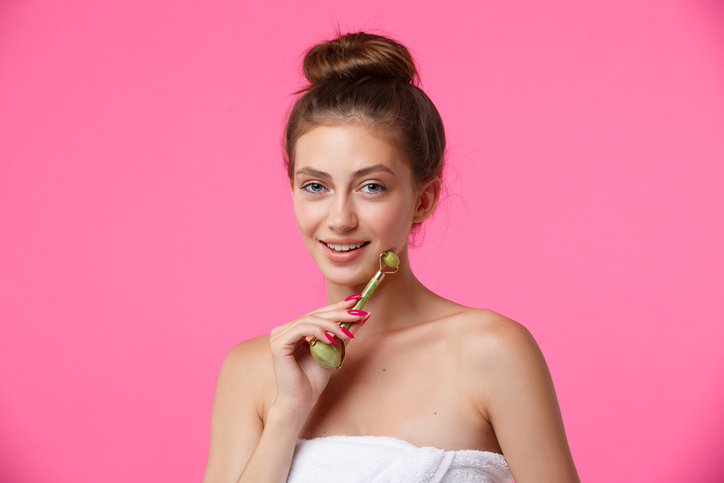 Gemstones are the newest beauty trend everyone is talking about. However, like essential oils and clays, gemstones are not new and have been used for many centuries to improve and support the body. What our ancient ancestors knew and what the majority of us are just figuring out is gemstones have healing power. Unlike the sometime temporary healing that comes with traditional medicine, gemstones heal with energy…pulling negative energy out of the body while moving positive energy in.
With that type of energy, it makes sense to want to extend it to the skincare, right? Isn't it logical to care for something as precious as your skin, with something as equally precious as gemstones? When a gemstone comes in contact with your skin, not only does it release certain frequencies and vibrations; it causes a unique reaction with your body's psyche and poles to elevate your overall wellbeing. Imagine what benefits gemstones can have on the skin when combined with the right skincare.
WHY USE GEMSTONES IN SKINCARE?
When real gemstones are incorporated in facial rollers and gem fusion serums, they harness energy in an entirely different way. The Primal Life Organics Gemstone Collection wasn't developed to blend in with the trend…it was developed to stand alone. Each product was carefully designed to deliver the full power of gemstones fusions to help you achieve more than vibrant beauty.
JADE FACIAL ROLLER
Jade is a gemstone that has been used to draw out negative energy and balance 'chi', which is also known as 'life force' or 'energy' in traditional Chinese medicine. Because of its cooling properties, Jade (as a facial roller) helps brighten your complexion, reduce puffiness, stimulates lymphatic drainage, and improves blood circulation. Healthy blood circulation carries oxygen to skin cells, and it will also help penetrate products deeper into the skin tissue. In that way, it helps reduces fine lines and wrinkles.
Many have looked to Botox or experimenting with painful procedures to maintain a smoother, more youthful complexion, but simply adding a Jade Gemstone Facial Roller to your daily skincare routine can eliminate the early signs of fine lines and wrinkles. *also supercharges the power of other skincare products. It works in harmony with serums and moisturizers to improve absorption into the skin and maximize results.
GEMSTONE FACIAL SERUMS
AURA
The Aura Gemstone and Hemp Facial Serum works perfectly with a Jade Gemstone Facial Roller. Each Aura Facial Serum has THREE gemstones to amplify the energy within the serum.  Aura is infused with two unique gemstones inside the serum and applied with the same gemstone rollerball to pass the energy and lifeforce from gemstone and oil into your skin. The magic of this powerful serum comes from gemstones and oils.  Our new gemstone rollerball massaging application goes on cool to soothe away inflammation, speed healing, stimulate blood flow, boost collagen and elastin production.
MYSTIC
Mystic Gemstone Serum is a unique infusion of the energy, vibration and healing qualities from gemstones and oils to balance negative and positive attributes essential for good health and promote healthy, glowing skin. Our premium blend of oils balance, energize, soothe, firm and moisturize the skin. Our blend has rejuvenating properties that help mature, wrinkled skin look and feel smoother, fuller, younger, softer and rehydrated. This energy infused serum is so unique and mystical, it will benefit your entire being, not just your skin.
SUBSCRIBE TO THE BLOG
Receive an update straight to your inbox every time I publish a new article. Your email address will never be shared