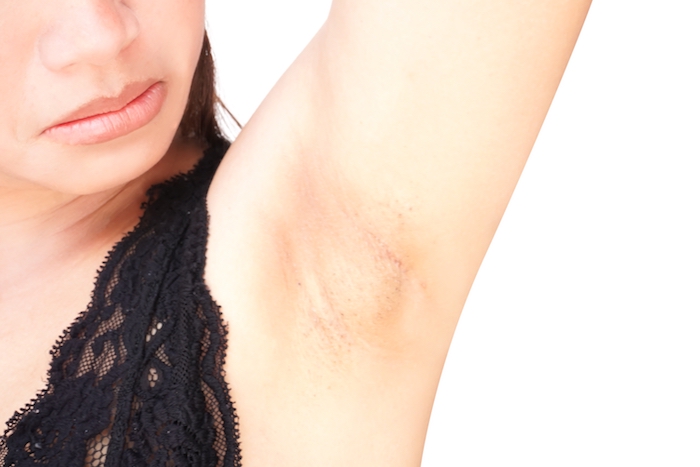 Deciding to switch from commercial antiperspirants to natural deodorant is a big deal. Sometimes people switch only to find out that natural products do nothing for their pits.
Do you feel that the organic deodorant has done nothing to stop the perspiration and the stink? Have you switched back to the original one?
If that is the case, you should do an armpit detox. As odd as it may sound, this detox can be very helpful in addressing a wide array of problems.
What is an armpit detox? 
Before you make the switch from commercial deodorants and antiperspirants to organic deodorants, you will have to detoxify your pits. A detox is essentially anything which helps to get rid of toxins, dirt and other impurities that have accumulated in your body.
Unlike detox cleanses that focus on the whole body, an armpit detox targets the armpits. Toxins can collect under your arms when you regularly use antiperspirants and deodorants. A detox will help draw out toxins and chemicals from those products:
Aluminum
Parabens
Propylene glycol
Talc
Triclosan
Silica
Steareth
When these toxins collect in the body, they can contribute to hormonal problems and growth of cancer cells.
An armpit detox can eradicate these. It also removes the unhealthy bacteria that collect in your pits. Getting rid of toxins and bacteria restores the healthy pH level of your underarms. This will help decrease bad body odor.
Why should you do an armpit detox? 
It might seem like a fad or a whacky health trend, but an armpit detox has proven to be extremely useful. If you're wondering why you should do it, an arm pit detox can be especially helpful if you experience any of the following:
You regularly and heavily make use of deodorants or antiperspirants.
You have a naturally strong odor, even when you are wearing deodorants.
Your armpits have bumps, are itchy or appear to be irritated.
If the lymph nodes near your armpits appear to be tender or swollen.
If you have tried to use natural deodorants but failed.
If using natural deodorants makes your armpits feel irritated or they start to overproduce sweat.
How do I detox my armpits? 
Detoxifying armpits is actually very simple. All it takes is a paste made with bentonite clay, apple cider vinegar and water.
Try the following to make a detoxing paste for your armpit:
Equipment You Will Need
1 glass bowl — Bentonite clay can react to metal
1 glass jar with lid — To store leftover paste
1 wooden or non-metal spoon — For mixing
1 natural fiber brush — For dry brushing
Ingredients
1 teaspoon of apple cider vinegar
1 tablespoon of bentonite clay
1-2 teaspoons of water
1-2 teaspoons of melted coconut oil (optional)
1-2 drops of essential oils (optional). We recommend using sweet orange or lavender.
Instructions
In the glass bowl, add in the apple cider vinegar and bentonite clay. Stir them together. If you want to use the coconut oil, add it to the mixture. Now add 1/4 teaspoon of water — keep adding 1/4 teaspoon until the mixture gets a thick consistency, similar to that of Greek yogurt. Add in the essential oil drops and mix again. Set aside.
How To Apply It 
Before applying the paste, take the natural fiber brush and dry brush your armpits. This helps to improve circulation, stimulate the lymph glands, and remove dead skin cells. Once you have dry brushed the area, use your hands to apply an even layer of the bentonite clay mixture to your armpits. Keep the mixture on for 5 minutes. After that, wipe the paste off with a warm, wet towel or take a shower to wash it off.
Continuing the process 
The paste should be used once every day for a total of 2 to 6 weeks. During this time, you should avoid wearing any deodorants or antiperspirants.
As you continue the detox, you can leave the paste on for longer amounts of time. Start with 5 minutes and work your way up to 20 minutes. Over the course of 2 to 6 weeks, keep increasing by 5 minutes until you reach 20 minutes.
Once your detox process is complete, you can start using a light, all-natural deodorant. The process will help keep your arm pits healthier and happier. It will also help with odor issues.
Why are my armpits red? 
Once you use the armpit detox paste, you should expect to see a little redness in the area. This is normal as the paste stimulates blood flow to the armpits.
However, if it is accompanied by irritation or itchiness, wash off the paste and reduce the apple cider vinegar content. During the detox phase, you can also expect to sweat more. Yet it probably won't smell as bad as you have previously experienced.
Get all-natural deodorants with Primal Life Organics
Watch for organic deodorants made with baking soda. This natural ingredient is great at neutralizing odor, yet it can irritate sensitive skin and armpits. For this reason, you should get one that does not contain baking soda.
If you are looking for good quality, all-natural deodorants, take a look at the collection available at Primal Life Organics. Crafted from organically sourced ingredients, these deodorants keep bad odors at bay and keep your armpits healthy and happy.
It's been rated 4.5 out of 5 stars by Primal Life Organics customers. Kathy H. says it's the best deodorant ever: "I have tried many, many different types of deodorants and none have combated odor like this one, especially during workouts. I'm so glad magnesium was added to the ingredients!"
Have you ever tried an armpit detox? I'd love to hear about your experience — tell your story in the comments.
SUBSCRIBE TO THE BLOG
Receive an update straight to your inbox every time I publish a new article. Your email address will never be shared